New Volume of Environment and Society!
September 20, 2018
Berghahn Journals is pleased to announce that the latest volume of Environment and Society has recently published and is available online at www.berghahnjournals.com/environment-and-society.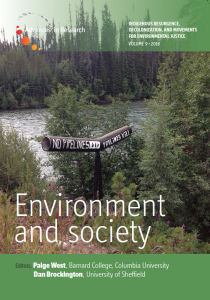 Volume 9, guest edited by Jaskiran Dhillon, revolves around the theme of "Indigenous Resurgence, Decolonization, and Movements for Environmental Justice" and aims to set forth a theoretical and discursive interruption of the dominant, mainstream environmental justice movement by reframing issues of climate change and environmental degradation through an anticolonial lens. Specifically, the writers for this volume are invested in positioning environmental justice within historical, social, political, and economic contexts and larger structures of power that foreground the relationships among settler colonialism, nature, and planetary devastation. As always, editor's introduction is freely available to all readers. Environment and Society 9 is rounded out by a section of book reviews on recent and relevant publications.
---

Volume 9 (2018): Indigenous Resurgence, Decolonization, and Movements for Environmental Justice
Guest Editor: Jaskiran Dhillon
INTRODUCTION
Indigenous Resurgence, Decolonization, and Movements for Environmental Justice
Jaskiran Dhillon
ARTICLES
Mino-Mnaamodzawin: Achieving Indigenous Environmental Justice in Canada
Deborah McGregor
Decolonizing Development in Diné Bikeyah: Resource Extraction, Anti-Capitalism, and Relational Futures
Melanie K. Yazzie
Fighting Invasive Futures: Indigenous Relations against Pipelines
Anne Spice
Settling the Land: Indigeneity, Ontology, and Hybridity in Settler Colonialism
Paul Berne Burow, Samara Brock, and Michael R. Dove
Hunting for Justice: An Indigenous Critique of the North American Model of Wildlife Conservation
Lauren Eichler and David Baumeister
Righting Names: The Importance of Native American Philosphies of Naming for Environmental Justice
Rebekah Sinclair
Damaging Environments: Land, Settler Colonialism, and Security for Indigenous Peoples
Wilfrid Greaves
Settler Colonialism, Ecology, and Environmental Justice
Kyle Whyte
Contradictions of Solidarity: Whiteness, Settler Coloniality, and the Mainstream Environmental Movement
Joe Curnow and Anjali Helferty
---

Recommend Environment and Society to your library!
As a key reseracher in your field, you can recommend Environment and Society to your library for subscription. A form for this purpose is provided on the Environment and Society website here.