New Featured Article!
"The Social Life of Blame in the Anthropocene"
September 30, 2018

The latest Environment and Society featured article is now available! This month's article—"The Social Life of Blame in the Anthropocene"—comes from Volume 6 (2015). In his article, Peter Rudiak-Gould shows how life in the Anthropocene reconfigures blame in four ways—it invites ubiquitous blame, ubiquitous blamelessness, selective blame, and partial blame—and reviews case studies from around the world, investigating which climate change blame narratives actors select, why, and with what consequences

Visit the featured article page to download your copy of the article today before it's gone! A new article is featured every month.

Anthropocene, attribution, blame, causality, climate change, discourse, responsibility, Risk Society
New Volume of Environment and Society!
September 20, 2018
Berghahn Journals is pleased to announce that the latest volume of Environment and Society has recently published and is available online at www.berghahnjournals.com/environment-and-society.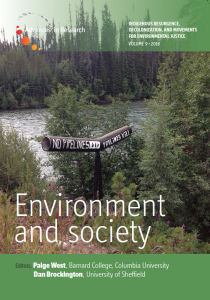 Volume 9, guest edited by Jaskiran Dhillon, revolves around the theme of "Indigenous Resurgence, Decolonization, and Movements for Environmental Justice" and aims to set forth a theoretical and discursive interruption of the dominant, mainstream environmental justice movement by reframing issues of climate change and environmental degradation through an anticolonial lens. Specifically, the writers for this volume are invested in positioning environmental justice within historical, social, political, and economic contexts and larger structures of power that foreground the relationships among settler colonialism, nature, and planetary devastation. As always, editor's introduction is freely available to all readers. Environment and Society 9 is rounded out by a section of book reviews on recent and relevant publications. (more…)