New Issue of Environment and Society!
October 11, 2017
Berghahn Journals is pleased to announce that the latest volume of Environment and Society has recently published and is available online at www.berghahnjournals.com/environment-and-society.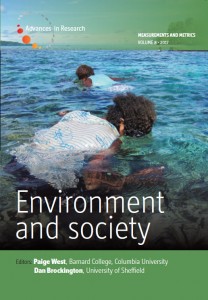 Volume 8, edited by Dan Brockington, revolves around the theme of "Measurements and Metrics" and explores how "themes of measurement are played out in diverse settings, including counting fish stocks, migration, social resilience, local measures of sustainability, oil exploitation, forest conservation, calculating ecosystem services, and measuring heat." The editor's introduction is available to all readers for free. The volume also features two Open Access articles freely available to all readers.
Environment and Society 8 is rounded out by a section of book reviews on recent and relevant publications.
---

Volume 8 (2017): Measurements and Metrics
Editor: Dan Brockington
INTRODUCTION
Measurements and Metrics
Dan Brockington
ARTICLES
Systematic Review of Recent Social Indicator Efforts in US Coastal and Ocean Ecosystems (2000–2016)
Victoria C. Ramenzoni and David Yoskowitz
A Crystal Ball for Forests? Analyzing the Social Ecological Impacts of Forest Conservation and Management over the Long Term [Open Access]
Daniel C. Miller, Pushpendra Rana, and Catherine Benson Wahlén
Culturally Grounded Indicators of Resilience in Social-Ecological Systems [Open Access]
Eleanor Sterling et al.
The Metrics of Making Ecosystem Services
Pamela McElwee
Natural Resources by Numbers: The Promise of "El uno por mil" in Ecuador's Yasuní-ITT Oil Operations
Amelia Fiske
Accounting for Loss in Fish Stocks: A Word on Life as Biological Asset
Jennifer E. Telesca
Parks, Proxies, and People: Ideology, Epistemology, and the Measurement of Human Population Growth on Protected Area Edges
David M. Hoffman
Temperature and Capital: Measuring the Future with Quantified Heat
Scott W. Schwartz
REVIEW ESSAY
Is There a National Paradigm to Sustainable Development?
Yves Laberge
---

Recommend Environment and Society to your library!

As a key reseracher in your field, you can recommend Environment and Society to your library for subscription. A form for this purpose is provided on the Environment and Society website here.

Tags: Environment and Society, measurements, metrics