Call for Papers!
Environment and Society 10 (2019)
October 18, 2017
Environment and Society has put out a call for papers for Volume 10 (2019), to be guested edited by Simin Fadaee and Seth Schindler, with a thematic focus on Megaprojects.
Environment and Society
New Issue of Environment and Society!
October 11, 2017
Berghahn Journals is pleased to announce that the latest volume of Environment and Society has recently published and is available online at www.berghahnjournals.com/environment-and-society.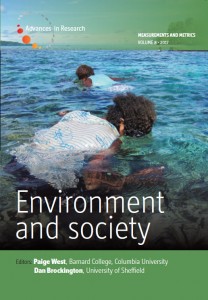 Volume 8, edited by Dan Brockington, revolves around the theme of "Measurements and Metrics" and explores how "themes of measurement are played out in diverse settings, including counting fish stocks, migration, social resilience, local measures of sustainability, oil exploitation, forest conservation, calculating ecosystem services, and measuring heat." The editor's introduction is available to all readers for free. The volume also features two Open Access articles freely available to all readers.

Environment and Society 8 is rounded out by a section of book reviews on recent and relevant publications. (more…)

Tags: Environment and Society, measurements, metrics
New Featured Article!
"Agroecology and Radical Grassroots Movements' Evolving Moral Economies"
October 4, 2017

The latest Environment and Society featured article is now available! This month's article—"Agroecology and Radical Grassroots Movements' Evolving Moral Economies"—comes from Volume 5 (2014). In his article, David Meek focuses on the role of agroecology in rural proletarian social movements, drawing on a case study of the Brazilian Landless Workers Movement, one of the most vocal agroecological social movements.

Visit the featured article page to download your copy of the article today before it's gone! A new article is featured every month.

agrarian question, agroecology, Brazilian Landless Workers Movement, food sovereignty, moral economy, repeasantization