New Featured Article!
"Mapping the Food Movement" Available as Free PDF
April 27, 2016
The latest Environment and Society featured article is now available! This month's article, "Mapping the Food Movement: Addressing Inequality and Neoliberalism," comes from Volume 2 (2011). Teresa Marie Mares and Alison Hope Alkon bring together academic literature tracing contemporary social movements centered on food, unpacking the discourses of local food, community food security, food justice, and food sovereignty.
Visit the featured article page to download your copy of the article today before it's gone! A new article is featured every month.
TERESA MARIE MARES is assistant professor of anthropology at the University of Vermont and is affiliate faculty with the graduate program in Food Systems. She received her PhD in 2010 from the University of Washington in sociocultural anthropology. She is currently studying food access issues among Latino/a farmworkers in Vermont.
ALISON HOPE ALKON is assistant professor of sociology at the University of the Pacific. Her research examines food systems from an environmental justice perspective, focusing on issues of food access, racial identity formation, and inequality. She also uses efforts to create sustainable local food systems as a lens through which to understand the green economy more broadly. She is co-editor of Cultivating Food Justice: Race, Class and Sustainability (2011).
Can We Hear Them Now?
Listening to Inuit Voices in Arctic Policy and Research
April 27, 2016
Megan Sheremata
Despite action in Paris, we still need to listen to Inuit peoples in climate change research to better inform decision-making in the years to come

Arctic Indigenous peoples have thrived under some of the globe's most extreme environmental conditions. Despite the dramatic impacts of climate change on the Canadian Arctic, which is occurring at twice the global rate, Inuit peoples in Canada aim to continue living and hunting on their traditional lands at the top of the world. But without adequate access to adaptation funding, the next generations of Inuit may not be able to effectively do so. Arctic leaders at COP21 this past December in Paris stressed that the unprecedented pace of anthropogenic climate change has made adaptation much more difficult and that northern communities need assistance to adapt to climate change. However, while there is some mention of Indigenous peoples, the final agreement doesn't appear to have any commitment to work with them.

Arctic, climate change, Inuit, Megan Sheremata, policy, self-determination
Happy Earth Day from EnviroSociety!
Free Access to Journal Articles
April 22, 2016
Each year, Earth Day—April 22—marks the anniversary of what many consider the birth of the modern environmental movement in 1970. Earth Day 1970 capitalized on the emerging consciousness, channeling the energy of the anti-war protest movement and putting environmental concerns front and center. The very first Earth Day celebration brought 20 million Americans to the streets to peacefully demonstrate for environmental protection.
In celebration of Earth Day, Berghahn Journals is delighted to offer free access to a selection of journal articles from a range of history, politics, and anthropology journals—including EnviroSociety's very own Environment and Society: Advances in Research. The articles can be accessed on Berghahn's new online platform through the links in the table of contents below
Berghahn Books is also offering a 25% discount off Managing the Unknown: Essays on Environmental Ignorance, edited by Frank Uekötter and Uwe Lübken (January 2016, paperback), by using the promo code UEK074.
As always, EnviroSociety offers free access to all five volumes' introductions, which are available as PDF downloads on the site's Journal page, as well as access to a new featured article every month. This month's article, "Origins, Uses, and Transformation of Extinction Rhetoric" by Richard Ladle and Paul Jepson (Volume 1, 2011), can be accessed here.
Happy Earth Day!
Articles
Reclaiming the lake: Citizenship and environment-as-common-property in highland Peru
Mattias Borg Rasmussen — Focaal 74
Infrastructures of progress and dispossession: Collective responses to shrinking water access among farmers in Arequipa, Peru
Astrid Oberborbeck Andersen — Focaal 74
What Do We Talk About When We Talk About Biodiversity Conservation in the Anthropocene?
George Holmes — Environment and Society 6
Less Than One But More Than Many: Anthropocene as Science Fiction and Scholarship-in-the-Making
Heather Anne Swanson, Nils Bubandt and Anna Tsing — Environment and Society 6
People, Planet, Power: Toward a New Social Settlement
Anna Coote — International Journal of Social Quality 5(1)
Nature, History, and Culture as Tourism Attractors: The Double Translation of Insider and Outsider Media
Mark C. J. Stoddart and Paula Graham Nature and Culture — 11(1)
Dam Close: Water Resources and Productions of Harmony in Central Japan
Eric J. Cunningham — Nature and Culture 11(1)
Bringing water challenges to target groups: French water utilities within the European legislative context
Céline Hervé-Bazin — Regions and Cohesion 5(2)
 Environmental governance in the EU–Latin American relationship
Roberto Dominguez — Regions and Cohesion 5(3)
Content is exclusively for the customer's individual, personal, non-commercial use. View full terms and conditions.
Hope for "Just Resilience" on Earth Day
April 22, 2016
Nathan Jessee
This post is presented in this week's series recognizing Earth Day, Friday, April 22.

This Is Trauma
"This is trauma," suggested one facilitator as the sun set over a planning meeting for the Isle de Jean Charles band of Biloxi-Chitimacha-Choctaw Tribe – Lowlander Center Resettlement held in January of this year. In a community space raised high above the banks of Bayou Pointe-Au-Chien, a handful of teenagers, adults, and elders from the Isle de Jean Charles band of Biloxi-Chitimacha-Choctaw Tribe had spent the last hour sharing their experiences of storms, flooding, displacement, disrupted community, and racism mediated by environmental crises and the official responses to them.
(more…)

Tags: Adaptation, climate change, Coastal Land Loss, Community Resettlement, Earth Day, Isle de Jean Charles, Louisiana, Nathan Jessee, resilience
The Trouble with Bats
Valuing Urban Naturecultures
April 21, 2016
Jessica Caporusso
This post is presented in this week's series recognizing Earth Day, Friday, April 22.

"Qu'est-ce qu'on va faire à propos des chauves-souris?"

What are we going to do about the bats?

I sit among a small cluster of locals and expats as we sip on coffee and soft drinks sweetened by locally grown sugarcane. We are crowded around a collection of bistro tables pushed together in the center of a busy café. The tropical sky overhead is clear, with not a single cloud in sight. No birds. No bats either.

They came for the bats—not to kill them. No, we are here to discuss ways of relocating the unwelcome creatures elsewhere. Elsewhere could be anywhere—just as long it was away from the towns, away from the orchards. In short, away from humans.
(more…)

Tags: Bats, bioeconomies, Earth Day, ethnography, Jessica Caporusso, naturecultures, political ecology, value
Kiribati and Climate Change
The Untold Story
April 20, 2016
Mike Roman
This post is presented in this week's series recognizing Earth Day, Friday, April 22.

On 16 November 1989, Kiribati Minister of Home Affairs and Decentralization Babera Kirata addressed the general forum at the Small Island States Conference on Sea Level Rise in Malé Island. Highlighting his nation's concern over the emerging greenhouse effect theory, he stated:

Over the centuries the question of rising in sea level was never heard of. Our ancestors had lived happily for centuries on our islands, without fear that one day, our beautiful homes may be lost as a result of the deterioration in the environment. We in this present generation have inherited those small islands and we are very proud to be owners of the beautiful homes, which our ancestors had secured for us … The ground water would easily become saline, making it impossible to obtain potable water, and agriculture would be destroyed. The plankton upon which fish live on will disappear, and the livelihood of Kiribati people, who depend on fish, would be seriously affected. The effect of rising in sea level, accompanied by strong winds and high waves would be disastrous for Kiribati. (Kirata 1989: 2–3)
(more…)

Tags: climate change, Earth Day, Ecological Genocide, Frontlines of Climate Change, Kiribati, Migration, Mike Roman, Water
Why Won't "Overpopulation" (Finally) Go Away?
April 19, 2016
Robert Fletcher
This post is presented in this week's series recognizing Earth Day, Friday, April 22.

The age-old specter of "overpopulation," it seems, is back in vogue among environmentalists once more. "Our population," writes celebrity biologist E.O. Wilson on the first page of his new book Half-Earth, "is too large for safety and comfort." Celebrity economist Jeffrey Sachs agrees, arguing in his own new book on sustainable development that "our starting point is our crowded planet." Meanwhile, in Life on the Brink: Environmentalists Confront Overpopulation, an eclectic collection of writers come together to "reignite a robust discussion of population issues among environmentalists, environmental studies scholars, policymakers, and the general public." At the same time, the Foundation for Deep Ecology has launched a campaign called Global Population Speak Out, supported by a collection of evocative photographs, to explore "connections between the size and growth of the human population and key sustainability issues." This focus has been reinforced by recent projections that the global population may reach nearly ten billion by 2050, revising previous assertions of an imminent level-off at nine billion or less. Despite decades of debate and concerted efforts to point out the problems in its framing, "overpopulation," it seems, is squarely back on the environmental agenda yet again.
(more…)

Tags: development, Earth Day, inequality, overpopulation, poverty, public secret, Robert Fletcher, sustainability
A Research Question
Bees, Theories, and Whether Posthumanism Comes to Matter
April 12, 2016
Daksha Madhu Rajagopalan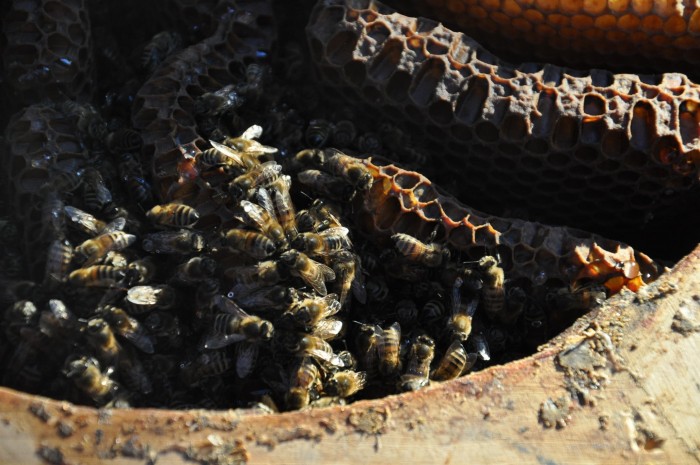 In responding to Eduardo Kohn's recent scholarship on How Forests Think, Bruno Latour has written:

The test is still to come: how could an ethnographer … equipped with such a philosophical anthropology find ways to make his or her ontological claims understood in negotiating what a forest is made of, when faced with forestry engineers, loggers, tourists, NGOs, or state administrators? (2014: 265–266)

Indeed, I wonder the same thing. How might anthropology's recent "posthuman" and "multispecies" turns be useful? These ontologically inspired theories elegantly dismiss the duality of nature/culture and hold forth a vision of symmetry in the world, yet doing so, as Lucas Bessire and David Bond have argued, is an "unmoored form of speculative futurism" that sidesteps the political and historical realities of life (2014: 441). So I wonder, in politically and historically forged spaces, how can these theories be made useful? Exploring the practical value of anthropology's recent posthuman/multispecies approaches in politically charged agricultural border zones, such as to aid the honeybee populations who face dire global collapse, is precisely what I wish to do.
(more…)

Tags: bees, Daksha Madhu Rajagopalan, human-animal relations, multispecies ethnography, ontology, posthumanism, senses, spirituality
Anthropocene Science
There May Be Trouble Ahead
April 7, 2016
Noel Castree
Now and then scientists act in concert to speak truth to power. Back in the 1970s, for example, they invented and used the idea of a "nuclear winter," which became a semantic weapon that helped de-escalate the Cold War arms race between the communist countries and members of NATO. Today the daily war against Earth is a prime focus: teams of scientists have coined new terms to sound the alarm about humanity's various misuses of the nonhuman world. Chief among them is the Anthropocene. It describes human impacts on Earth of such scope, scale, and magnitude as to initiate a new phase of the planet's 4.5-billion-year history. "Anthropo" means people, "cene" an extended period: "the age of humans," as a rough translation. Originating in environmental science at the turn of the millennium, the Anthropocene may soon graduate from an academic buzzword to a keyword—that is, one of those terms that animates inquiry within and between a plethora of disciplines over a long period of time (in the ways that "globalization" and "genetic modification" have done since the mid-1990s).
(more…)