The EU should advocate a demand-reduction approach to tackling the global ivory trade
July 29, 2015
Rosaleen Duffy
This post originally appeared on the European Politics and Polity (EUROPP) blog but was reprinted here with permission from the London School of Economics and Political Science. Illegal hunting and trade in wildlife have been increasingly prevalent in news and policy dialogue, becoming an ever more important part of conservation issues. The EnviroSociety editors have included the post here, as it will be useful and important to the blog's readers.
A sharp rise in ivory poaching and smuggling over the last five years has fast become a central focus of international concern, and was one of the key issues underpinning a vote on combating 'wildlife crime' in the European Parliament last year. The level of interest has been bolstered by high profile (but now questioned) claims that ivory poaching is being used to fund militias and terrorist networks including Al Shabaab, the Lord's Resistance Army and Janjaweed; or that it sustains networks of organised crime networks.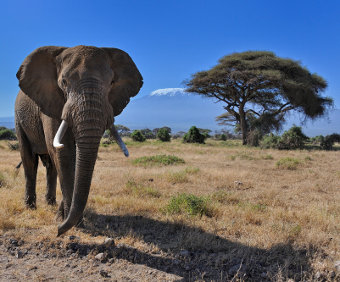 Credit: Diana Robinson (CC-BY-SA-3.0)
But the increasing dominance of the 'crime' framing is not helping to put an end to ivory smuggling, nor will it save elephants in the longer term. We know from past experience in the 'ivory wars' of the 1980s, which halved the African elephant population, that demand reduction in consumer markets is the more effective approach. Yet arguments for demand reduction are being lost amongst calls for urgent action.
International concern is rapidly increasing: the illegal ivory trade has been the favoured topic of members of the British Royal family (especially Prince William via his United for Wildlife initiative) and internationally famous celebrities (including Harrison Ford, Leonardo Di Caprio, Tom Hardy and Angelina Jolie). In 2014 the UK Government oversaw the development of the London Declaration on the Illegal Wildlife Trade, and this has been followed up with a second inter-governmental conference in Botswana this year. The UK Government has committed £10 million for conservation initiatives to support the London Declaration.
Concern is not confined to the UK either. President Barack Obama issued Executive Order 13648 on Combating Wildlife Trafficking, stating that it was in the US national interest to tackle trafficking because it fuelled instability and undermined security; and in 2013 the Clinton Global Initiative announced a commitment to raise $80 million to combat trafficking and poaching as a security threat.The European Union has also identified the role of organised crime networks in illegal wildlife trade and recognises that as a significant transit point in the trade the EU has a major role to play in the enforcement of regulations. This level of interest is welcome, but it has also contributed to the ivory trade being framed only in terms of crime, which prompts a response rooted in enforcement.
The scale of the illegal wildlife trade is difficult to estimate because of its clandestine nature. But in 2007 the US State Department estimated that the global illegal trade in wildlife and plants was worth around $10 billion, but possibly as high as $20 billion, excluding timber and fisheries. In 2014 TRAFFIC estimated that it was worth $8-10 billion per year, excluding illegal fisheries and timber extraction. While these figures give a sense of the scale of the illegal trade, they do not reflect the complexities of demand and supply.
The illegal trade in ivory is highly transnational – global trading routes link source countries with end user markets via a series of complex networks, intermediaries and entrepôts. As a result, governing the wildlife trade is a complex challenge, made even more difficult when that trade is illegal. The transnational nature of legal and illegal trades means they require inter-state and multi-agency co-operation to ensure that the trade does not over-exploit particular species and risk driving them to extinction.
The International Consortium for Combatting Wildlife Crime (ICCWC) is a step in the right direction; it was established in 2010 in recognition of the need to tackle the growing influence on transnational organised crime in trafficking of endangered species. It was an initiative of Interpol, the Convention on the International Trade in Endangered Species (CITES), the World Bank, The World Customs Union and the UN Office on Drugs and Crime, and the purpose was to provide co-ordinated support to national wildlife law enforcement agencies, as well as regional networks; so for example ICCWC provided specialised training for national agencies in 2013. Certainly, better enforcement of existing legislation by CITES members in Europe, as well as engaging in multi-agency cooperation will assist in reducing the illegal ivory trade. But it will not be enough to tackle the scale of the problem.
We would do well to revisit the original ivory ban in order to gain a better understanding of what might work this time round. Ivory trading was banned under CITES (except in certain very restricted circumstances) in 1989. Therefore it might seem reasonable to view it only via the framing of crime, but the most effective approach is demand reduction in end-user markets, and that is losing out along the way.
We know from the 1989 ivory ban that the authorisation of shoot-to-kill anti-poaching campaigns across Sub-Saharan Africa had limited and localised effects. Such forceful approaches also relied on the premise (rather like current concerns) that ivory poaching was being carried out by bands of poverty stricken individuals co-opted by organised crime networks.
Yet, we actually know very little about what motivates poachers and what the role of poverty really is. It may be that people engage in poaching for economic reasons, and if that is the case then long term solutions depend on providing better alternatives, not more guns and boots on the ground – or more recent moves by conservation NGOs, working with national governments and donors, to develop strategies more commonly associated with counter-insurgency campaigns: drones, surveillance technologies and the development of intelligence networks.
We know from 1989 that a major factor in the global collapse in the ivory trade was the effective demand reduction campaigns run by several conservation NGOs. They influenced the general public and the Governments of key consumer countries (the US and the UK at that time). Currently, the rising demand for ivory originates from the increasingly wealthy economies in Asia, particularly China. The profile of demand now differs slightly from the late 1980s, Chinese consumers value ivory as a material that displays the skills of the carver rather than using it for jewellery, piano keys and billiard balls (amongst other things).
Therefore demand reduction campaigns need to be carefully tailored to communicate effectively with ivory consumers. Recent successes in reducing demand for Shark Fin soup are instructive – demand reduction campaigns by NGOs and a decision by the Chinese Government not to serve it at state banquets had a clear impact. Demand reduction is the most effective long term strategy; this is where the European Union, conservation NGOs, Governments and International organisations would be well advised to target resources and support.
Note: This article gives the views of the author, and not the position of EUROPP – European Politics and Policy, nor of the London School of Economics.
---
Rosaleen Duffy is Professor in the Political Ecology of Development in the Department of Development Studies at SOAS, University of London.
Sustainability
Beyond Natural Resources
July 22, 2015
Melanie Ford
As a student of the University of California, I have been fortunate to engage in scholarly discussion in classrooms, offices, and outdoor campus spaces with students and professors from multiple disciplines. The University of California has not only provided me with a well-rounded education but has also encouraged me to seek opportunities to delve deeper into my passions, exercise my critical thinking abilities, and thrive in life after college. Attending higher education has provided me with the tools needed to navigate my environment with an analytical eye, and encouraged me to apply these abilities and seek positive change. Entering my fourth and final year as an undergraduate student, I have learned from various classes and conversations that implementing change is a collective and collaborative effort, one meant to reconstruct and redefine systemic institutions and hegemonic social structures and discourses, rather than just individual actions. While my collegiate involvement with environmental protests, petitions, campaigns, and resolutions has taught me a great deal about challenging dominant environmental narratives and injustices, what has been absent from these experiences is how to define and place environmental issues into context, where social, economic, and political parameters of environmental issues are considered in understanding the dynamics of environmental issues and applying effective sustainable solutions.
It wasn't until I became an anthropology student that I began to value the importance of a holistic perspective—more specifically, the need to redefine the common definition of sustainability as an individual lifestyle and to place environmental issues into local contexts when taking into consideration how to develop sustainable institutions, communities, and futures. Ethnographies, classes, and research experiences have opened my eyes to the complexities that exist within understanding and defining the boundaries of environmental issues, eliminating my naivety in believing there is any ease in achieving a just and sustainable environment.
My previous experiences with environmental and sustainable actions have been through campus clubs and campaigns. Most notable was my experience as Riverside campus campaign director with Fossil Free UC, a student-led fossil fuel divestment campaign supported by 350.org and the California Student Sustainability Coalition and composed of undergraduate and graduate students, faculty, and alumni. The campaign is geared toward divesting the UC endowment pool from the top 194 fossil fuel companies and reinvesting in socially and environmentally responsible campus developments and practices. Seven out of the ten UC campuses are participating in this campaign, which has attracted a large number of students who have expressed the need for the University of California to become a global leader in sustainable and environmentally responsible investments and practices. This campaign helped me realize the power and presence that student potential, collaboration, and inquiry can hold in targeting the larger, more powerful structures engendering environmental degradation. However, my research experiences this summer have provided me with a more in-depth understanding of the intricacies involved in addressing the sources, effects, and solutions to environmental issues.
This summer I have had the opportunity to partake in my first interdisciplinary research experience. The NSF-funded LAKES Research Experience for Undergraduates program is an interdisciplinary and applied research experience aiming to better understand the root causes of phosphorus pollution in the Red Cedar Water Basin (more specifically, in Lake Menomin and Tainter Lake) located in Menomonie, Wisconsin. The program has recruited ten undergraduate students studying anthropology, biology, economics, geochemistry, and sociology who are working to understand the multifaceted complexities of lake pollution. The lakes' toxicity is due to cyanobacteria algal blooms from phosphorus runoff, largely from the commercial agricultural land that occupies most of central Wisconsin. Human activities of all kinds on the landscape have resulted in degraded water quality and have significantly impacted the biological, social, and economic diversity, such as decreased health of lake residents' ecosystems, lower property values, decreased tourism and local business revenue, and a significant loss of a lively lake-centered community during summer months of algal blooms. Working under Dr. Tina Lee, I have been researching and interviewing community members of Menomonie and Dunn County to identify how lake quality affects lifestyles, local tourism, and local businesses' success. As the lake is such a central and iconic asset of Menomonie, understanding the impacts of lake pollution on local business and tourism will generate a better assessment of how various residents of Menomonie and Dunn County consider the lakes and water quality to be central for community engagement. These engagements include recreational activities, tourism, businesses, annual community events, and political decisions that shape how sustainable and environmentally responsible solutions affect Menomonie's economy and community identity.
While my experiences with Fossil Free UC and other environmentally centered activities have educated me on the structural causes leading to environmental degradation and the need for environmentally responsible practices, these past four weeks with the LAKES REU have already granted me a range of experiences that have redefined my understanding of what moving toward a more environmentally responsible and sustainable environment entails. While the REU's goal is to provide a cohesive understanding of the causes of and, hopefully, solutions to the pollution in the Red Cedar Watershed, it wasn't until this research experience that I acknowledged how sustainability exceeds protecting the future of natural resources. Prior to arriving in Menomonie, I understood that sustainability is more than individual choices of reusing, recycling, and having a general care for the tenability of natural resources; however, my previous experiences in environmental involvement had led me to believe that the ambition for equitable sustainable practices and developments was an easy achievement. Research in just these past four weeks has challenged these preconceived notions and expanded my definition of sustainability to include all aspects that affect or are affected by the water quality of the lakes, including the social, economic, and political spheres that shape Menomonie as a community. Expanding on my previous understanding of sustainability, I have begun to unravel the discourses hidden within environmental and sustainable development and am exploring how Menomonie and Dunn County community members alter and create spaces of identity in relation to water quality.
When I first arrived in Menomonie, I had the naïve understanding that almost all community members were in agreement about certain solutions for the lake pollution, and that it was only a matter of discussing how to implement them. As I began my research, I quickly realized that opinions vary and disagreements are common. Within these past four weeks, I have been introduced to the language and nuances of local and state politics that either allow or prevent environmental regulation. I have conversed with local residents, business owners, farmers, and council members who have expressed different opinions about the sources of pollution, who is responsible for dealing with it, what solutions are feasible, and even the relative importance of the lakes' water quality. Where council members have implemented policies reflecting best management practices to curb future lake pollution, financial or community resources have prevented residents and other landowners from abiding by certain ordinances. Other community members have expressed concern regarding the effectiveness of policies targeting land ownership practices instead of the larger agricultural industries. Those involved in the business and tourism industry express the positive effects better water quality may have on the economic development of Menomonie and Dunn County but see little effort being made to bridge the lakes' water quality with the local economy. Interdisciplinary research—including the construction of farmer social networks, evaluation of the impacts of water quality on the local economy, and education about the biological and geological research of cyanobacteria—has furthered my understanding of how various residents of Menomonie and Dunn County relate to each other and identify more positively with certain solutions and environmental ideologies than others.
Whereas my previous experiences in sustainable and environmental engagement targeted larger hegemonic structures of environmental degradation and approached sustainable efforts as easy routes, my current understanding of sustainability has developed dramatically. By understanding that the environment in which I am working extends beyond the physical boundaries of a waterway, I am subsequently realizing that environmental sustainability includes the careful consideration of a community's social, economic, and political spheres, which underlie the success of sustainable solutions. Incorporating these spheres to generate a more holistic solution toward water quality is important to the well-being and longevity of sustainable practices so that policies and solutions implemented not only address the environmental issue at hand but also positively affect the rest of Menomonie's community. As an anthropology student, my applied research has stressed that environmental sustainability cannot exist without taking into consideration how the implementation of environmentally sustainable policies affects, incorporates, or excludes those outside of the physical environment.
Melanie Ford is an undergraduate student of anthropology with a minor in gender and sexuality studies at the University of California, Riverside. As a graduate school hopeful, she will be applying to anthropology graduate programs this fall with interests in the intersections of political ecology, gender, science and technology studies, and sustainability with particular interests in food systems and energy.
---
Cite as: Ford, Melanie. 2015. "Sustainability: Beyond Natural Resource." EnviroSociety. 22 July. www.envirosociety.org/2015/07/sustainability-beyond-natural-resources.

Tags: fossil fuels, interdisciplinary research, Melanie Ford, student involvement, sustainability, water quality
Antonin Scalia and the Environmental Politics of Human Health
July 8, 2015
Richard Bargielski
Picture an environmentalist. What comes to mind for you? For some, the word evokes an image of radicals marching through city streets to protest public policies. For others, they think of "tree huggers" who chain themselves to trunks and branches in an effort to prevent deforestation.
Next, think of how the word environmentalism makes you feel. What is your reaction? While some might praise such endeavors, others view the word through a darker lens. They see thoughtless radicals who care more about nature than they do about people, willing to sacrifice the livelihoods of many humans for the preservation of a few trees or birds.
Kay Milton defines an environmentalist as a form of identity performance in which an individual not only holds a particular belief about nature but also is active in promoting their ideology to others (Milton 1996). However, this neutral academic definition takes on a very different meaning in public consciousness. Over the past forty years, the very word "environmentalism" has evolved into a polarizing discursive tool used by establishment powers to decry what they perceive as a fringe group that wishes to preserve nature at the expense of economic well-being. In painting environmentalists as individuals who value the intangible beauty of nature over the extrinsic value it provides, they disenfranchise environmentalism as dangerous to a fundamental social institution that distributes resources for our survival. Environmentalism, they argue, often comes at the expense of human prosperity.
This argument is successful because it strikes directly at the hearts of the average American. For instance, on the imposition of stricter logging regulations in the Pacific Northwest, many workers feared losing their jobs and livelihoods and protested on the grounds of "people before planet" (Layzer 2012). However, the most common anti-environmentalist rhetoric is misleading because it focuses narrowly on only one part of the environmental movement. While early environmentalism focused mostly on conservation of resources and preservation of natural beauty, the modern environmental movement has been characterized by a shift toward the relationship between human action and environmental consequence. These consequences frequently consider the impacts of pollution and other environmental harms on humans in the form of environmental injuries and health concerns. Such a transition began with the 1962 publication of Rachel Carson's Silent Spring, which drew national attention to the dangers posed by DDT and other chemicals to not only other organisms but also people (Carson 1962).
The shift has manifested in what sociologist Robert Brulle calls the environmental justice and environmental health factions of the environmental movement (Brulle 2000). Each is differentiated from other kinds of environmentalism for their focus on the harms that pollutants and other activities have on human bodies. Although small, these factions promote a holistic perspective other kinds of environmentalism lack by emphasizing the ecology of human action. In short, their purpose is to remind us that we, too, are organisms and that our behaviors can have disastrous consequences for our own survival.
Curiously, however, I find in my own research with rural environmental justice advocates that they disagree with Brulle's categorization. Among my informants, there is a consensus that environmentalism is a naughty word laced with too much political baggage to be viable in their endeavors. The group with whom I currently conduct my fieldwork, called the Northern Ohio ALS Project, seeks an Ohio EPA investigation into an alleged prevalence of amyotrophic lateral sclerosis (ALS, or Lou Gehrig's disease) in Ashtabula County (Northern Ohio ALS Project 2014). However, recognizing that their own culture of farmers and factory workers are likely adherent to dominant environmental discourse, they emphasize the embodied consequences of pollution in order to humanize their cause. By attaching faces and bodies to environmental problems, they hope to appeal to their society's emotions and sense of justice.
Humanizing environmentalism is no easy task. Current environmental science and law alike make it difficult to identify the silver bullets that cause illnesses like ALS—if such bullets even exist, that is. Environmental science is complex, with many variables at play; isolating and testing those variables to determine a vera causa ("true cause") is thus nearly impossible. Such institutions reinforce the social inequalities that make poor people and minorities more than four times as likely to experience environmental injustice and provide them with few, if any, pathways for retribution (Checker 2005). While appealing to the humanism of others may work emotionally, it remains a weak trajectory for working within the system.
This was plainly seen on June 29, when the U.S. Supreme Court ruled 5–4 that the EPA had not properly considered cost-benefit analysis in its regulation of coal plant emissions (U.S. Supreme Court 2015). The majority opinion, written by Antonin Scalia, rejects the EPA's argument that the benefits ascribed to human life by the regulations outweigh the economic costs imposed on the fossil fuel industry. The court's narrow rejection of the regulations affirms that environmentalist justice advocates still have a long way to go in establishing a new discourse that considers human well-being from a more holistic and ecological perspective.
Environmental justice advocates are becoming increasingly prevalent voices in environmental discourse. However, the struggle to establish a cultural consciousness that the environment can be a source of harm to humans is limited by modern science and politics. These institutions thus maintain a social order in which bodies are governed in a way that devalues individual human lives. Justice Scalia's ruling is an unfortunate continuance of our dominant discourse, asserting that economic value takes precedence over the value instilled in human life merely because the latter cannot be readily quantified. The consequence is that those experiencing environmental injustice are robbed of the very institutional mechanisms that would allow them to seek retribution for their injuries. The social order is thus maintained until and unless environmental science can advance to such a point at which human life can be measured in the same way as other forms of human prosperity (e.g., job growth and income). Until such a time, we are resigned to live in a world where bodies mean precious little unless they can be quantified, unitized, and measured as part of a cost-benefit analysis.
Richard Bargielski is a graduate fellow in the Anthropology Department at Ohio State University. His primary research interest is the role of grassroots environmental justice and health organizations play in shaping United States environmental discourse.
---

References
Brulle, Robert J. 2000. Agency, Democracy, and Nature: The U.S. Environmental Movement from a Critical Theory Perspective. Cambridge, MA: MIT Press.
Checker, Melissa. 2005. Polluted Promises: Environmental Racism and the Search for Justice in a Southern Town. New York: New York University Press.
Layzer, Judith A. 2012. "Jobs Versus the Environment: Saving the Northern Spotted Owl." Pp. 174–208 in The Environmental Case: Translating Values into Policy, 3rd ed. Washington, D.C.: CQ Press.
Milton, Kay. 1996. Environmentalism and Cultural Theory: Exploring the Role of Anthropology in Environmental Discourse. New York: Routledge.
Northern Ohio ALS Project. 2014. "The Vincina Protocol: Developing a Universal Medical Protocol for the Diagnosis, Treatment and Prevention of ALS/Lou Gehrig's Disease." https://vincinaprotocol.wordpress.com.
U.S. Supreme Court. 2015. Michigan v. EPA.
---

Cite as: Bargielski, Richard. 2015. "Antonin Scalia and the Environmental Politics of Human Health." EnviroSociety. 8 July. www.envirosociety.org/2015/07/antonin-scalia-and-the-environmental-politics-of-human-health.

Tags: discourse, embodiment, environmental health, environmental justice, environmentalism, Richard Bargielski, U.S. Supreme Court