FREE sample issue of Environment and Society!
June 5, 2015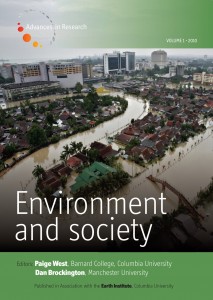 In celebration of World Environment Day, Berghahn Journals is delighted to offer free access to a virtual journal issue of Environment and Society: Advances in Research, Volume 1. And don't forget that Berghahn Books is also offering a 25% discount on all Environmental Studies titles for the next 30 days. At checkout, simply enter the code WED15.

As always, EnviroSociety offers free access to all five volumes' introductions, which are available as PDF downloads on the site's Journal page, as well as access to a new featured article every month. This month's article, "Fair Trade and Fair Trade Certification of Food and Agricultural Commodities: Promises, Pitfalls, and Possibilities" (Volume 2, 2011) by Debarati Sen and Sarasij Majumder, features stunning new photos of fair trade–related women's activities in Darjeeling and further reading on related topics from the authors. Download a free PDF of the article here.

Happy World Environment Day!

Tags: Berghahn Books, Berghahn Journals, World Environment Day
FREE sample issue of Environment and Society!
The Environment and Military Conflict
A Critical Review of the Environmental Security Discourse in the Himalaya
June 5, 2015
Alka Sabharwal
Recently, wide-ranging claims have been made about the relationship between the environmental change in the Himalaya and Indian national security, providing space for a broader debate concerning the concept and practice of environmental security. It has been claimed in the environmental security discourse that the climate change and resource scarcity in Himalaya threaten national security of India and can possibly lead to violent conflict in the Indian subcontinent region. Such causal assumptions have profound implications in which the Himalaya and its environmental issues are likely to be understood and addressed in the future. The dominance of this discourse and the concomitant neglect of important social and political factors, which embody any environmental change in the Himalaya, make it crucial that the environment security paradigm be critically examined.
(more…)

Tags: Alka Sabharwal, climate change, conflict, environment, Himalaya, Indian military, national security
FREE sample issue of Environment and Society!
World Environment Day 2015
June 4, 2015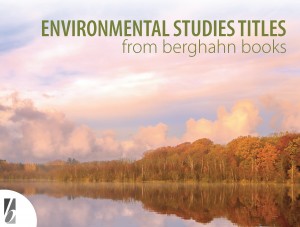 World Environment Day is held each year on June 5. It is one of the principal vehicles through which the United Nations (UN) stimulates worldwide awareness of the environment and enhances political attention and action.

To mark this year's observation, Berghahn Books is pleased to showcase new and forthcoming titles in its Environmental Studies range. Each title delivers informed comment on a number of key issues, and we are delighted to offer a 25% discount on all Environmental Studies titles for the month of June. At checkout, simply enter the code WED15.

Browse Berghahn's newly released  Geography and Environmental Studies 2015/2016 Catalog or visit our website­ now with new enhanced subject searching features­ for a complete listing of all published and forthcoming titles.

Also in time for World Environment Day is this month's featured article from Environment and Society Volume 2, "Fair Trade and Fair Trade Certification of Food and Agricultural Commodities: Promises, Pitfalls, and Possibilities" by Debarati Sen and Sarasij Majumder, featuring stunning new photos of fair trade–related women's activities in Darjeeling and further reading on related topics from the authors. Download a free PDF of the article here.

As always, EnviroSociety offers free access to all five volumes' introductions, which are available as PDF downloads on the site's Journal page, and a free special virtual issue on climate change can be found here.

Be on the lookout for new content as the celebration continues June 5 with a new blog post and another free virtual issue!

Tags: Berghahn Books, Berghahn Journals, World Environment Day